About ECOBOS
Sustainable products: the story of Ecobos
You can go to Ecobos for sustainable products, with which you help nature and people in the first place.
However, the proverbial seed was planted years ago.
In the 80s, to be exact. As a 16-year-old student, I wanted to do more for the environment. Every action you take yourself starts a chain reaction. Even if it's just a pebble in the river.
But they were different times. We had never heard of climate youth. The classic bazaars of that time offered no solace. That's why I cycled to the Oxfam-Wereldwinkel in the center of Heist-op-den-Berg on Saturday morning. I could stock up on recycled paper there. It stayed there for a while. Little did I know that there were many more sustainable products. Yes, even then.
My aha experience came in 1996, at an environmental festival in Germany. I was there as a volunteer. There was a nice selection of recycled stationery: notebooks, course blocks and folders. I thought this should also be available with us. And preferably many more sustainable products. A did-you-know: this German brand is still part of our range today.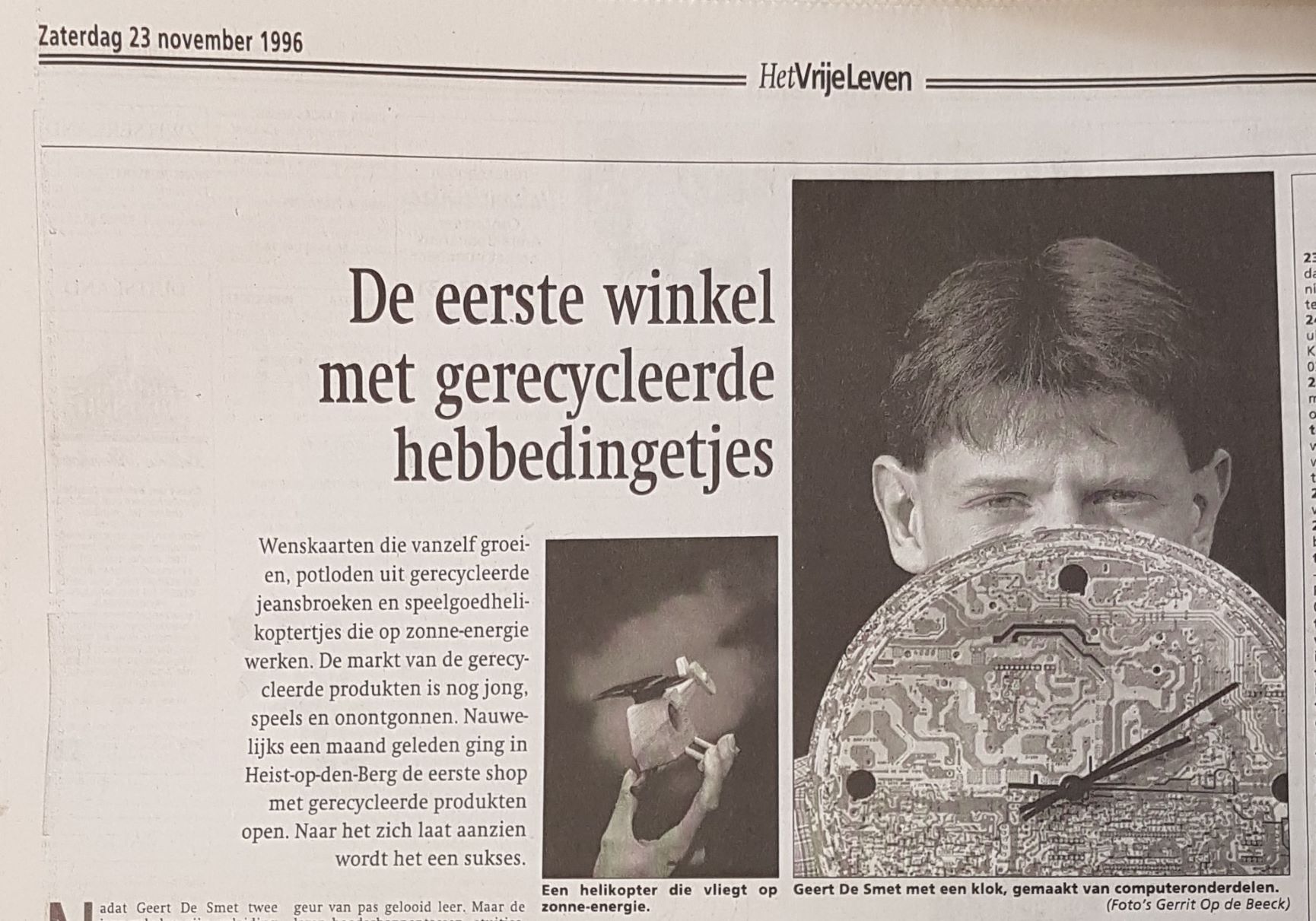 I collected 100,000 Belgian Francs and started Ecobos.
However, it started small. A shop of 12 square meters in the garage of my brother and sister-in-law. However, the range of environmentally friendly products was already extensive from the start, with more than 200 items. My company was still called Pangea back then, by the way.
After two years, the garage became too small. I moved to Herentals, towards an old factory building. In 2002 we moved to our current ecological location in Heist-op-den-Berg. Our range grew further and further, to no fewer than 5,000 products from numerous environmentally friendly brands. Invariably made with respect for both the environment and people.
Together with you, we highlight your commitment to nature.
Are you a company, organization or government agency looking for ecological articles? Then we are happy to assist you. We have alternative, sustainable products for promotional material, office supplies and stationery. Without having to compromise on its quality. And there are also many fun and original things in between.
Our range of the most sustainable products is very extensive today. In this way you can contribute to nature in many ways:
greeting cards,

(letter) paper,

course blocks and exercise books,

envelopes and labels,

folders,

wrapping paper, gift wrapping paper and craft paper,

pencils and erasers,

sharpeners and rulers,

ball and fountain pens, including refills and ink,

other desk accessories,

cotton bags and paper bags,

ecological gifts such as wooden toys.
In addition, we can personalize most eco-friendly products for you. Do you want your municipality's logo on totebags? Do you like to give pencils with your slogan to potential customers? Or are you looking for an ecological award for your employee of the month? Contact us for a tailor-made offer. Everything is also available in small quantities.
However, anyone can claim that they sell sustainable products.
That is why we do things differently at Ecobos. Before a product from one of the sustainable brands enters our range, it must meet strict criteria. To begin with, everything must of course be made with respect for nature. Labels and logos are a crucial guarantee in this respect. Most of our environmentally friendly products have therefore been expressly approved by one or more leading organisations. Just think of FSC, PEFC, Fairtrade, GOTS, Der Blauer Engels, Green knot and the WWF.
But it doesn't stop there. Just as important as the impact on the environment are the working conditions in the production of sustainable products. At Ecobos you know that everything is made in healthy and safe conditions. Workers are not exploited and receive a fair price for their work.
In this way we know perfectly the origin of the products. Moreover, almost everything is made in Europe. This is how we limit emissions during transport. We have wood products made from local types of wood from the Czech Republic, Slovakia and Poland. The recycled paper and stationery mainly come from the Benelux, Germany and Italy. In addition, everything is delivered to us directly from the manufacturer. And everything can be fully recycled at the end of the journey. In this way, the sustainable materials also get an extra life later on.
Our four core values can be found in our logo. Just look at the colorful icons at the bottom. These stand for environmentally friendly, recycled, sustainable and social.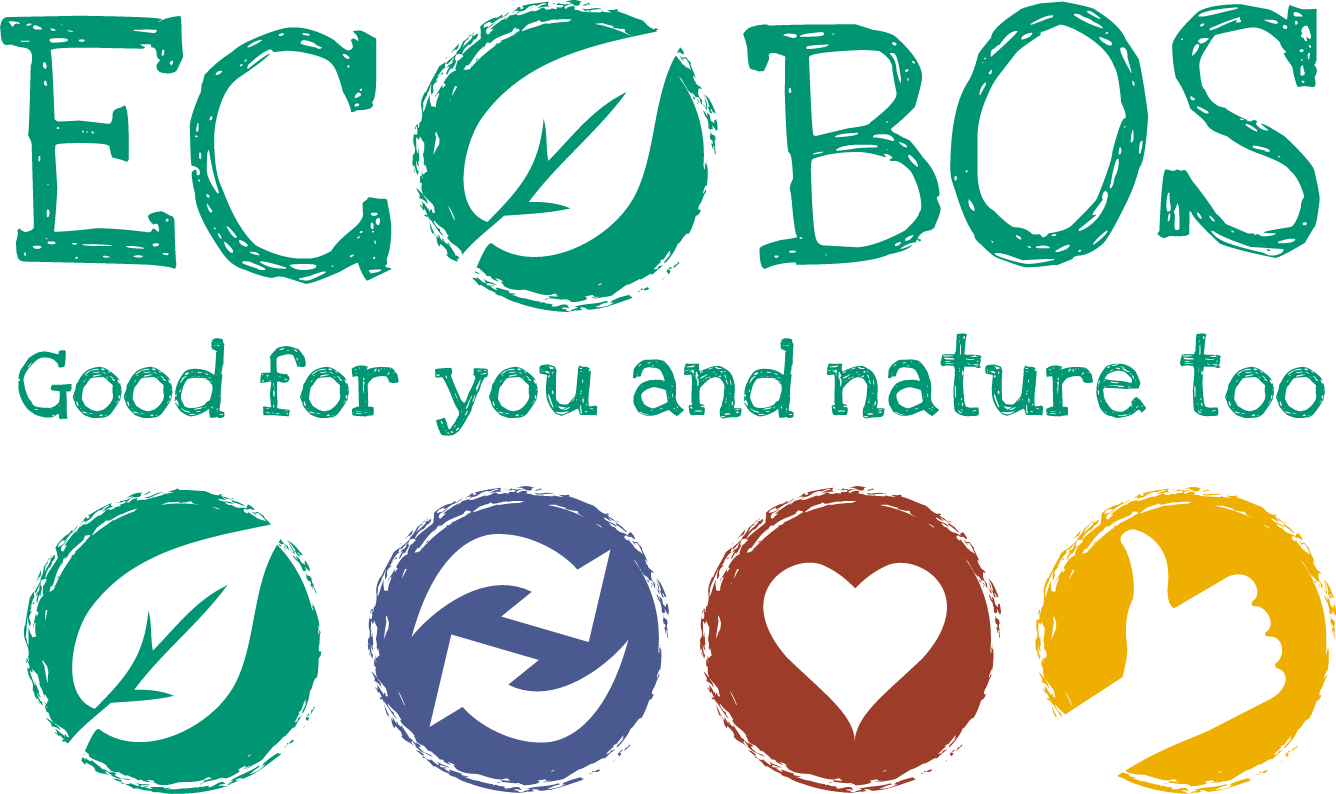 We are also members of The Shift.
The Shift wants to give a further boost to sustainable development in both North and South. Together with them we are moving towards sustainable and fair trade, all over the world.
It started with a few course blocks in the World Shop. And it led to the sale of thousands of ecological items. But the work is not finished yet. Together with you, we also want to move a lot of stones in the river in the coming years.
Take a look at our webshop today, with customizable sustainable products.
Ecobos: good for you and nature too!